Our designers bring a great deal of knowledge and experience to each project, but also know that the most successful designs come from listening to our clients. We are proud to announce the full time status of Peter Guy-Landscape Architect. Peter has been with the company for more than 4 years. He is a graduate of Stockbridge School of Agriculture with a degree in Landscape Design, and is also a graduate of the highly accredited UMass School of Landscape Architecture.
Peter has the knowledge and skills to turn your landscape dreams into reality. We can create anything from simple sketches, all the way to computer-rendered drawings. Can't afford to do the whole job at once? We can phase any landscape project, and work within whatever budget you have in mind.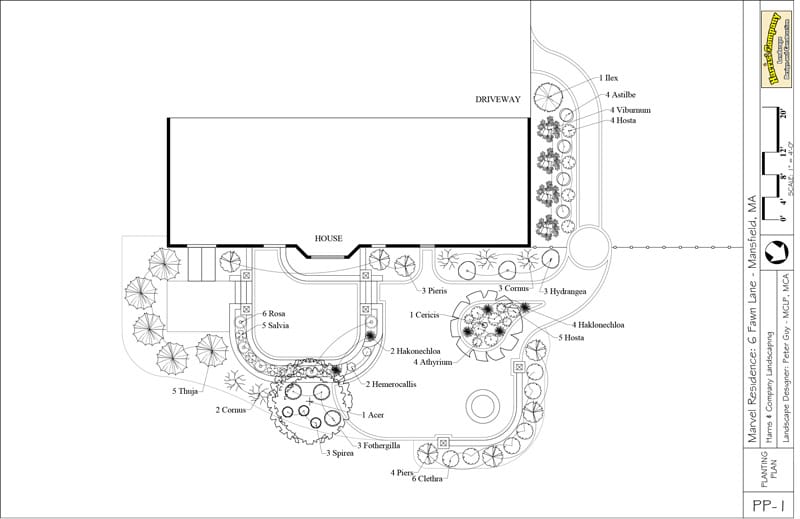 Design Process
We begin each project by meeting you at home to walk through the property. We want to find out how you'll use your yard – whether you need play space for children, room for pets to run around, a patio for entertaining, a quiet spot to read, or privacy screening from your neighbors. We take the time to notice design issues you may not be aware of and offer innovative solutions as part of your plan. We also want to know if you have a preference for certain design styles. Do you like curved lines and a natural look or something more formal and orderly? Most people like a combination of styles which is why it is helpful to show us photos of landscapes and gardens that appeal to you.
After we have met, we conduct a thorough site analysis and create a scaled drawing. The site analysis includes looking at potential drainage issues, measuring changes in elevation, and taking an inventory of existing plants and other features so we may consider how they might fit into your landscape project. Your homes architecture and views from inside your house will also be important parts of our evaluation.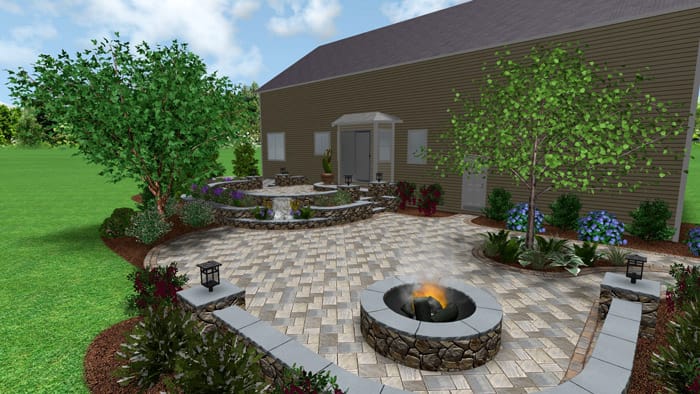 Creating Your Plan
We then take all the information from the site analysis and client interview and combine it with our extensive knowledge of plants and landscaping materials to develop your design. As horticulturists, we select plants that thrive in this climate and provide you with year-round color, texture, and fragrance. We'll help you choose hardscaping materials that form the backbone of your design and compliment your home. We work hard to ensure that the design is practical as well as beautiful, that artistic principles of line, space, texture, balance and proportion work together to create a graceful garden setting.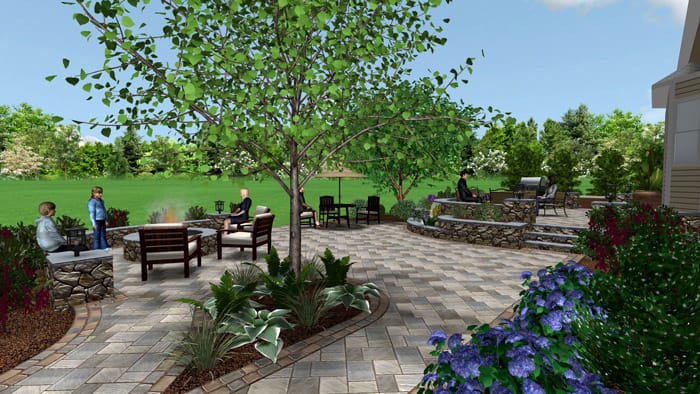 We can offer 3d visuals of your project if you have trouble imagining the standard plan we give you. Furthermore, we can offer you an actual fly-through of the project complete with crickets chirping, fire pit crackling, and birds singing. Its a great chance for you to understand the finished size of the project before we put a shovel in the ground. CLICK HERE FOR AN EXAMPLE OF A FLY-THROUGH
Upon completing the design, the designer will meet with you again to present the plan and walk through your property, so you can visualize how our design ideas will fit together. At that time we will also provide a cost estimate for your project. We can work the project into phases to help keep your dreams a reality, and stay in budget. Once you have accepted the proposal we will schedule the installation.
Installing the Design
As designers, we also act as project managers and work closely with our installation crews to ensure the project is installed as planned and on schedule. Harris and Company's crews take great pride in their work and are meticulous in all aspects of the job. Their dedication to craftsmanship is reflected in the beauty and quality of your finished landscape.
Maintenance of Your New Space
Harris and Company is your one-stop-shop for landscape design, installation, and maintenance. We have full time maintenance crews working 5-6 days a week to maintain our past installations. From simple lawn mowing and fertilizer programs, to hand pruning of your trees and shrubs, and spring/fall cleanups we can keep that landscape investment looking fresh every year.
Where we Work
While we have concentrated in the Metrowest and Central Massachusetts, some of our more comprehensive projects have taken us into Boston, Northern Rhode Island and even Cape Cod.
Design Fee



For properties 35 miles away and closer, we give a free one-hour consultation where we discuss your landscape wants and needs. During this time we can walk your property and talk about how you plan to use your outdoor spaces. We will identify focal points and specific areas for enhancement or safety issues. Properties over 35 miles away are charged $50/hr including travel time, but 100% of that is refunded to you should you hire us to install your new space. If you decide that you would like us to move forward into the design phase, there is a charge for that. Just like a home builder cannot tell you how much it will cost to build your home without a plan, neither can we tell you how much a well-designed landscape will cost without a design. A thoughtful design takes some time to create. Because we are a landscape design company, we do have a minimal charge to help cover the expense of the time and labor needed in the design creation. 50% of our design fee is credited back to you should hire us to install your new space. All of that said, if it is a small project that does not require design time, we can provide a quote without charge. Sometimes it's as simple as spraying turf paint on the lawn and coming up with a great design that you love, and that of course is free.
Getting Started
Please fill our the information on our estimate request form, or Contact Us.