Pool Decking
All in-ground pools should have a well built pool decking surrounding it. The best products to do this work are natural stone, and concrete pavers. Pool decking can take a beating; from high sun exposure, to lots of foot and furniture traffic, to brutal freeze/thaw cycles winter and spring. There are many products out there for pool decking, but pavers and stone are the most versatile, and long lasting products out there for pool decking.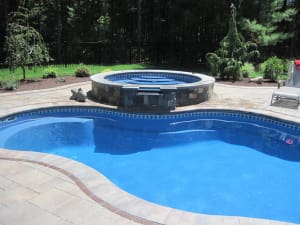 The process starts with assessing your space and figuring out what type of structures you may want in your pool decking, like a sitting wall, firepit, arbor or pergola, or water feature. Then, we find out your entertainment needs; are you hosting a few friends, or 20+ people? From there, we discuss the materials you prefer, and if you are not sure, don't worry! We bring our portfolio with us to the meeting, along with catalogs of materials to help you narrow down your ideas. After that, we measure the site, take elevations for slope to make sure your pool decking can drain properly, we take photos, and other notes relevant for our quoting purposes. About 1 week later, we return with a quote and move forward from there!
The reason our pool decking lasts so long is because of 3 main reasons:
We wait till your pool area has settled for at least 6 months. Pool decking should never be installed over soft settling ground as it creates air voids which can cause sinking and warping of your space.
We install a minimum of 10" of compacted gravel so your pool decking is strong enough to hold a small truck. Gravel is inexpensive and readily available, so why not go a little heavy and offer a thick base?
Your pool decking will be pitched away from the pool, with no puddles so standing water is never an issue, thus prolonging the life of your space.
We work closely with pool installation contractors, electricians, and anyone else who might need to be a part of your pool area. Our goal is to provide you with the highest quality pool decking, and a reasonable price, that adds value to your home and quality of life. We have several examples of recent pool decking jobs below. Let us know if we can give you a quote!